Now, for those of you how know me quite well on here, you will know that I love pirates. I mean if I was given the change to go back in time and sail the high seas then I would take it in a heartbeat.
Which leads us onto my favourite TV Show at the moment ... BLACK SAILS!
Now it took me a while to convince myself to watch this because I love Treasure Island and I didn't want one of the films of my childhood to be ruined. However there was only so long I could hold on for. I am so glad I did cave; it is a cast of people I had never heard off headed by Prince John from Robin Hood.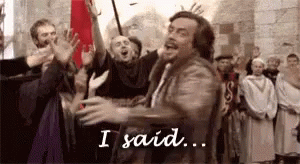 Sorry tangent, but the character portrayals and plot is fabulous. It's dark, there is a lot of death and sex in it but the story flows around those elements and they make it feel more real.
I love Long John Silver (the cliffhanger is still killing me); he's such an annoying little brat only looking for himself but he grows to care and it is such a sweet progression.
I did prefer him without the beard though but I guess it makes him look more intimidating.
Season 3 is in January and I cannot wait :D How about you?